Treatment Available for Post Concussion Syndrome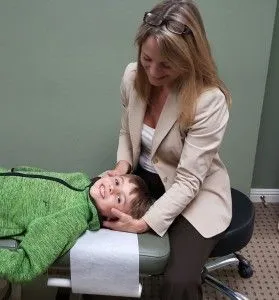 Did you know that the skull is made up of 22 different bones. These bones are all connected by sutures. It was once thought that the bones of the skull were fixed. It is now known that the various bones of the school can be displaced causing pressure on the underlying brain. This pressure can impair healthy brain function and or recovery from injuries.
Head injuries can happen often in our lifetime. They can be the result of significant incidents such as an auto accident, serious fall, sporting activities, being punched on the head etc. or a seemingly benign incident such as hitting your head on a cabinet door, being struck in the head by a ball, etc. Theses incidents will often result in a diagnosed or undiagnosed concussion. There can also be certain incidents that occur during birth and infancy that negatively impact the skull's alignment.
Anybody who has suffered from a head injury whether extreme or benign should have themselves examined for any bone misalignments. There are many health problems that can be related to misaligned bones of the skull.
Dr. Cira practices Cranial Adjusting Turner Style (C.A.T.S.) to correct misalignments found in the bones of the skull.
Individuals who suffer from any of the following conditions may benefit from C.A.T.S. treatments.
Allergies
Asthma
Attention Deficit Disorder (ADD)
Autism
Chronic fatigue
Dyslexia
Ear problems, including those with difficulty draining
Fibromyalgia
Headaches
Insomnia
Jaw problems
Learning difficulties
Migraines
Post-Concussion Syndrome
Premature aging
Seizures
Sinus problems, including snoring and breathing problems